Duration: 3 days
Location: Bulgaria
Available Seat: available
Price: 695
BOOK NOW
March 16th – 18th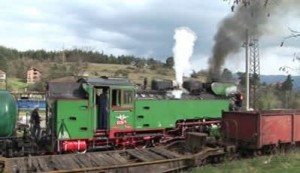 This tour is the first of a planned series of "Blitzkrieg" tours – flying into and out of the destination, with the fastest growing airline in the UK, Jet2; for a concentrated programme of charter steam trains, designed for enthusiasts whose priority is travelling on, photographing and filming them, with sightseeing and cultural pursuits taking second place, although included when time permits.
One highlight of the trip will be the use of the narrow gauge 2-10-2 tank, 609.76, on what BDZ claim will be its very last journey, on the mountainous Septemvri system. (For modern traction adherents there are also the 1975 Henschel n.g. diesels still operating on that n.g. system.)
Another highlight will be 2-12-4 46.03 nicknamed "mother bear" because of its size, on the route Kyustendil – Sofia. And the third of our special steam trains will be hauled by 2-8-2 01.23 on the 77km run from Plovdiv to Panagyurishte.
Our flight will leave London Stansted airport at approx. 08:00 on Friday, March 16th; our return arrival will be on Sunday March 18th at approx. 20:10, but of course all details including the schedule for the special trains will be confirmed well before our tour departure.
We expect that there will be time on Sunday, before our transfer to the airport, for a tour of Sofia, Bulgaria's capital, by historic tram.
The tour price is likely to be around £695, including return flights from London Stansted; and half-board (dinner, bed and breakfast) en-suite accommodation superior hotels in the hotels on a twin share basis. Single room supplement £100. The tour is fully escorted throughout, and a road coach "shadows"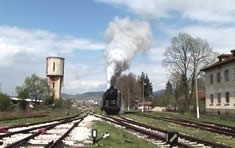 the special trains conveying luggage etc.
All images except the main picture, and the diesel which are courtesy James Waite, are still frames from video material shot on the 2011 tour.