13 Days including return flights from London from £3,799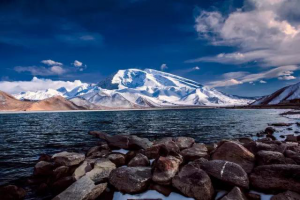 Optional extension to see the last genuine working steam trains anywhere in the world.
The "Silk Road" was an ancient network of trade routes used by traders between China and the Mediterranean sea, from around 120BC until the 15th Century AD, for all kinds of goods between the Orient and Europe.
Enjoy the atmosphere of the on-train facilities – the restaurant, bar etc. – on this railway tour by special, de-luxe, sleeping- and restaurant-car train, which will cover some of the most celebrated Western Chinese parts of the Silk Road, whilst at the same time exploring some of the most breathtakingly beautiful, unspoiled and rarely visited areas of this almost unknown part of the ancient world.
The following map illustrates the area, and highlights the places we will be visiting. 4 nights will be spent in our train, and 7 in top class hotels.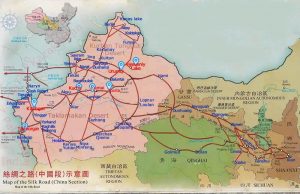 ITINERARY
Sept. 29 –  Sat.   – Depart London Heathrow airport at 18:05 by Air Astana – the national airline of Kazakstan – for the city of Astana, continuing to Urumqi…
Sept. 30 – Sun.   – ….arriving Urumqi 11:40 local time. We will be met and transferred to our hotel, the 5-star Hoi Tak Hotel, for our overnight stay. We have not included dinner this day as tour participant will be arriving at different times, and in any case there is a wide choice of restaurants in the immediate vicinity of our hotel, which does have its own restaurant.
Oct. 1   – Mon.    – Urumqi is the capital of the Xinjiang Autonomous Region. it looks like a part of Switzerland or Canada set in the midst of the Gobi Desert. It is the largest city and the most spellbinding in the Western half of China. Today we visit the Xinjiang Uygur Autonomous Region Museum, to see the mummies. Then we will visit the Heavenly Lake, 1,900 metres above sea level! We will have lunch in this idyllic area before returning to the Urumqi railway station to board our private train for dinner as we proceed. Meals: B/L/D

Oct. 2 – Tue.     –  We arrive at Luntai after breakfast. It is situated at the southern foot of Tianshan Mountain, on the north border of Tarim Basin. Here lies the 26,000 hectare "Forest of Diversiform – leaved Poplars", which is the largest in area, density, and best preserved of its kind in the world, named – in the Uygur language – "the most beautiful tree". It is also called the "hero of the desert" on account of its ability to withstand drought, sand and wind. Lunch on the train, and there is more fantastic scenery in the afternoon – Tarim Basin – before we continue our journey to Kuche, for our overnight stay in the 4-star Hotel Kuche Grand. Meals: B/L/D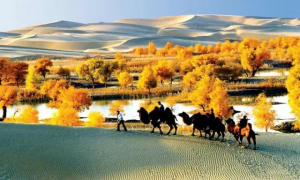 Oct. 3 – Wed.    –  This morning we will visit the Tianshan Grand Canyon (also known as the Kezilia Grand Canyon, meaning in Uighur "red cliff". It is 5.5 kms from east to west with a depth of 1,600 metres. The reddish-brown mountains of the grand and rugged canyon are in different shapes, and gullies and trenches can be found everywhere – some places are too narrow to pass through. Our afternoon visit is to Kizilgaha Beacon Tower, a watch tower dating back to the 8th Century. Then we leave Kuche on our private train for dinner, and an overnight journey to Kashgar. Meals: B/L/D
Oct. 4 – Thu.     –  We arrive in Kashgar in the morning. Today will be an amazing day, because we will visit the famous Jinhuyang National Forest Park, a beautiful environment of desert oasis, unbelievable beauty, before transferring to our 5-star hotel in Kashgar, the Star Hotel Jinjiang. Meals: B/L/D
Oct. 5 – Fri.      –   After breakfast, we forsake the train for road transport to drive on the China and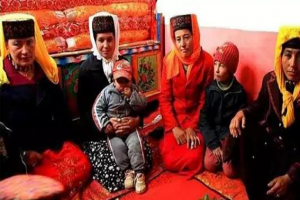 Pakistan Highway to visit the Karakul Lake and enjoy the Pamir Landscape. Karakul Lake, at an altitude of 3,600 metres, which is the highest lake of the Pamir plateau, near the junction of the Pamirl Tianshan and Kunlun Mountain ranges. Surrounded by mountains, which remain snow covered throughout the year, the three highest peaks visible from the lake are Muztag Ata (24,500ft), Kungur Tagh (24,859ft) and Kongur Tiube (24,472ft). The lake is popular with travellers for its beautiful scenery and the clarity of its reflection in the water, whose colour ranges from a dark green to azure and light blue. Late afternoon we'll arrive in Taxkorgan County, for a visit to a Tajik family, who will host our visit into their life and know about their stories, before we repair to our ***/**** hotel. Meals: B/L/D
Oct. 6 – Sat.     –  This morning we'll see the Stone City – an ancient ruin located in the centre of Tashkorgan and significant castle ruins on the ancient Silk Road, built on a precipitous hillock. Outside the castle are the broken city walls, originally 1,300 metres long, 6 metres high and between 1 and 3 metres wide. Then we will drive by the beautiful scenery of the Buren Bay Sand Lake and the Hongshan Gorge en route back to Kashgar, where we have dinner and overnight in the ***** Qianhai International Hotel. Meals: B/L/D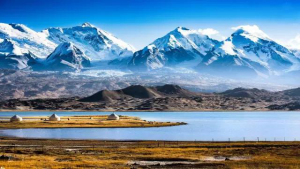 Oct. 7 – Sun.    –   Today we visit the Grand Bazaar in Kashgar City, where the only Islam culture survives with characteristic labrynthine structure, and the Id Kah Mosque with its 500 years of history. In the evening, back to our private train for dinner, and onward to Korla. Meals: B/L/D
Oct. 8 – Mon. –     After breakfast on our private train we travel by private bus to Lopnur Village, an old minority in XinJiang province.  Just 53 miles from Korla this hamlet of more than 20 clans is considered one of China's most famous villages.  The Lonpur village is famous for producing fine jade-ware and is home to the Lompur ethnic minority who possess their own unique culture. Although it is located in the Taklamakan Desert, it backs onto the "green corridor" providing the village with water and vegetation. The villages didn't plant crops, or raise livestock, but live on catching fish and hunting wild animals. Dinner and overnight in **** Korla Loulan Hotel in Korla. Meals: B/L/D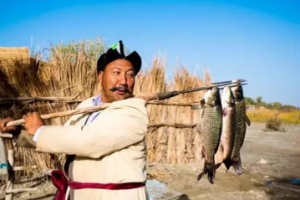 Oct. 9 – Tue. –     Today we visit the Bosten Lake, the biggest freshwater lake in China, about 35 miles from east to west, and 15 miles from north to south, rich in fish and popular for all kinds of water sports. After lunch we visit the Iron Gate Pass, before driving back to the railway station for our private train, en route to Urumqi, taking dinner and breakfast on the journey. Meals: B/L/D
Oct. 10 – Wed. –  We arrive in Urumqi around noon, and transfer to our ***** hotel in the city, for dinner and overnight. Meals: B/L/D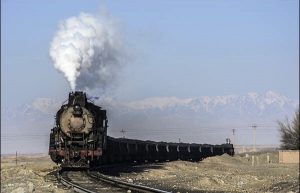 (or:  continue to join our "China- the last chance" steam railway tour (see "steam tours") to observe the last genuine working steam trains anywhere in the world, at the nearby Sandoling coal mine; continuing to the narrow-gauge steam passenger railway at Shibanxi, with the option of extra days in Beijing and/or Hong Kong before finally returning to London.)
Oct. 11 – Thu. –    Today after a leisurely breakfast,  we transfer to the airport for our flight departing at 12:40 via Astana to London Heathrow, arriving 16:50. Meals: B (other meals in-flight)
Prices per person, including return flights from London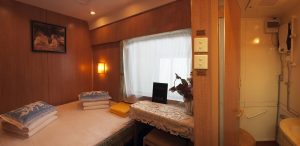 In "Diamond Class" en-suite cabins, with double bed per cabin,               £4,299  (illustrated right)
As above, single occupancy, on train and in hotels.                                      £5,499
In "Gold Class" cabin, with 2 lower beds per cabin                                       £3,799  (below, left)
As above, single occupancy, on train and in hotels.                                      £4,099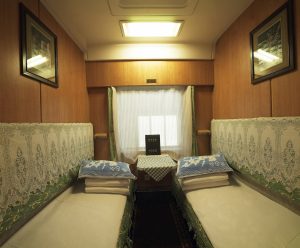 A deposit of £300 secures your place on this tour, which is operated by Enthusiast Holidays' parent company Trainseurope Ltd.,  under the authority of its ATOL (Air Travel Organizer's Licence) 4601, in association with our partners China Rail (Chinese Railways).
Approximately 2  months prior to travel you will receive the "Final Itinerary" together with an invoice for the balance of payment, and as it is not impossible that some amendments may be made to the content of the tour in the meantime, you are free at this point to cancel your reservation, with a full refund of your deposit, if the "final itinerary" fails to meet with your approval. The hotels quoted are those the Chinese Tour Agency has contracted for this tour but should any be unavailable at the time of booking, substitute hotels of at least equal standard will be used.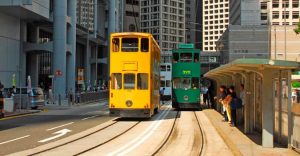 You will also be provided with full details and advice as to weather, health, local customs, currency etc. and the forms and instructions for any visas required for your journey. The cost of visas is not included in the tour price, but we do offer an optional visa service is you wish us to obtain your visa for you.
Similarly, travel insurance is not included in the tour price (because many frequent travellers already have it) but you are strongly urged to take out suitable insurance for your trip.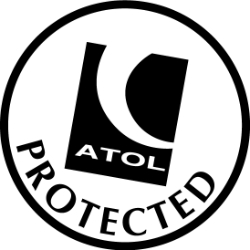 Enthusiast Holidays (Trainseurope Ltd.), 4, Station Approach, MARCH, Cambs. PE15 8SJ 0871 700 7722; 020 8699 3654  info@enthusiasthols.com