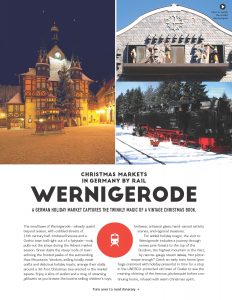 Winter 2019/2020 – departures November 22, 29; December 6; 13. Prices include return Eurostar and rail from London St. Pancras to Wernigerode via Brussels, Cologne and Hannover, and are based upon 2 people sharing twin/double rooms.
 Hotel Ringhotel Weisser Hirsch, a classic 4-star hotel right on the market square, and the oldest hotel in Saxony-Anhalt; £469    (single room supplement £199); supplement for 1st Class Eurostar and rail travel , £129*
Hotel Altora, 3-star hotel ideal for train enthusiasts, overlooks the station and depot, and lies within walking distance of the market; £399 (single room supplement £110); supplement for 1st Class Eurostar and rail travel, £129.
All prices based upon an exchange rate of €1.15 = £1, and are subject to confirmation at time of booking, as are exact train times.
The small town of Wernigerode—already quaint beyond reason, with cobbled streets of 15th century half-timbered houses and a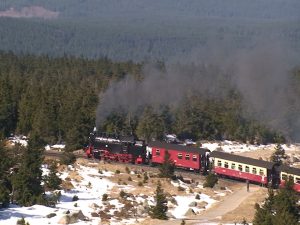 Gothic town hall right out of a fairytale—truly pulls out the stops during the Advent market season. Snow dusts the steep roofs of town echoing the frosted peaks of the surrounding Harz Mountains. Vendors, selling locally made crafts and delicious holiday treats, arrange their stalls around a 30-foot Christmas tree erected in the market square. Enjoy a slice of stollen and a mug of steaming glühwein as you browse the booths selling children's toys, knitwear, artisanal glass, hand-carved nativity scenes, and regional treasures.
For added holiday magic, the visit to Wernigerode includes a journey through snowy pine forests to the top of the Brocken, the highest mountain in the Harz, by narrow-gauge steam railway. Not picturesque enough? Catch an early train home (your bags crammed with holiday presents) in time for a stop in the UNESCO-protected old town of Goslar to see the morning chiming of the famous glockenspiel before continuing home, infused with warm Christmas spirit. Click on this link for a live webcam view of Wernigerode Market Square.
ITINERARY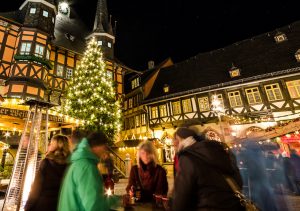 Day 1 – Friday:            Depart London St. Pancras by Eurostar at 06:50. Arrive Brussels 10:07; your train for
Germany leaves at 10:25. Arrive Wernigerode  17:41, and check into either the Hotel Ringhotel
Weisser Hirsch ****, or the Altora ***, where you'll stay 4 nights, breakfast included.
Day 2 – Saturday       Visit the Christmas Market in Wernigerode's market square.
Day 3 – Sunday           Travel by narrow-gauge steam train to the Brocken and back, the tallest mountain peak in the
Harz and the site of   a Cold War  communications centre. (Click on the image of the steam train, above right, for a video clip of the trip up
to the Brocken).
Day 4 – Monday         Swing through the Christmas Market again and maybe visit Wernigerode Castle, a 19th Century Schloss with medieval foundations.
Day 5 – Tuesday         Your train departs Wernigerode at 07:20 to arrive in Goslar in good time for the 09:00 Glockenspiel  (Click on the image below left, for a video clip).
Then on to Brussels for the Eurostar service to London St. Pancras, arriving 19:57.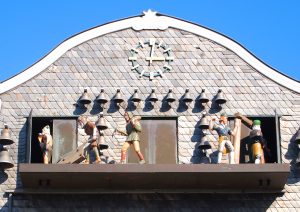 Later departure times are available on both legs of the journey (on the return, those opting for the later departure would miss the 09:00 Glockenspiel chimes in Goslar). From London St. Pancras, a 10:58 departure gets you to Wernigerode at 21:41; from Wernigerode, a 10:20 departure gets you back to London St. Pancras at 19:57.
Discount fares are available to/from London St. Pancras from most major UK rail stations, in conjunction with this tour – prices on request.
These tours are operated by Enthusiast Holidays' parent company Trainseurope Ltd.  4, Station Approach, MARCH, Cambs. PE15 8SJ Tel. 0871 700 7722 info@trainseurope.co.uk  www.trainseurope.co.uk