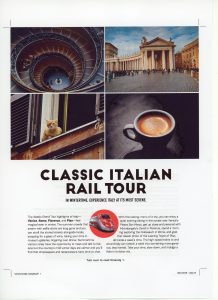 IN WINTERTIME, EXPERIENCE ITALY AT ITS MOST SERENE!
Winter 2019/2020 – Departures any available time, on any day of the week, between 1st November 2019 and 31st March 2020. Prices based upon two people sharing double/twin hotel rooms; with Standard Class rail travel; seat reservations (where required), and 6-berth couchette accommodation on the overnight trains between Paris/Venice and Milan/Paris: from £699
Supplemental charges for optional upgrades:
For T4 (4-berth couchette) accommodation on the overnight rail journeys, £60
For 1st Class rail travel throughout, including Double sleeper compartments on the overnight train  journeys, £325
For 1st class rail travel throughout, including Single sleeper compartment on the overnight train journeys, £t.b.a.
For single-room  hotel accommodation, £95
All prices are based upon RoE of €1.15 = £1 and are subject to availability, and will be confirmed at time of booking, as will exact train times.
Discount fares are available to/from London St. Pancras International from most major UK rail stations, in conjunction with this tour – prices on request.
Hotel note:  The hotels chosen for this tour – Venice: Hesperia or Continental; Rome, Amalfi; Florence Corona d'Italia – were selected for their quality, and proximity to the railway stations. In the event that any of the above hotels are not available, alternate hotels with similar features and location will be offered.
The classic Grand Tour highlights of Italy – Venice, Rome, Florence and Pisa – feel magical even in Winter.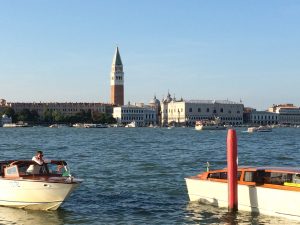 The summer crowds that swarm with selfie-sticks are long gone, and you can stroll the storied streets alongside the locals, stopping for a glass of wine, taking your time in museum galleries, lingering over dinner.
Summertime visitors rarely have the time to meet and talk to Italians but the country's mild winter days are calmer and you'll find that shopkeepers and restaurateurs have time to chat.
With this tasting-menu of a trip, you can enjoy a quiet evening taking in the sunset over Venice's Piazza San Marco, get up close and personal with Michaelangelo's David in Florence, spend a morning exploring the Colosseum in Rome, and grab that classic photo of the Leaning Tower of Pisa, all inside a week's time. The high-speed trains to and around Italy can stretch a week into something more generous, less harried. Take your time, slow down and indulge a little in la dolce vita.
ITINERARY
Day 1        Leave London St. Pancras at 09:24 via Eurostar, arriving in Paris at 12:48. Spend the afternoon sightseeing before leaving the Gare de Lyon on the 19:14
overnight train (your choice of couchette or sleeping car as noted above) to Venice.
Day 2        Arrive Venice Santa Lucia station at 09:35. As you walk out of the station you are right on the Grand Canal! Turn left, and in minutes you will be
checking in at the Continental or Hesperia Hotel, for 2 nights' stay with breakfast.
Day 3        Free day to explore Venice
Day 4        Depart Venice at 10:25 for Rome, arriving at the Termini station 14:10. Check into the Hotel Amalfi (2 nights with breakfast), before enjoying the
afternoon and evening in Italy's capital.
Day 5        Free day in Rome.
Day 6        Depart Rome at 09:20 for Florence, arriving 10:21. Check into the Hotel Corona d'Italia, in the historic centre, near to the railway station, for 1 night's
stay with breakfast.
Day 7        Enjoy your morning in Florence. Catch one of the frequent trains to Pisa for afternoon sightseeing. At 17:44, jump on an Inter-City train to Milan in time
to board the overnight train departing 23:05 (couchette or sleeper accommodation) to Paris.
Day 8        Arrive in Paris 09:55. Spend the morning exploring before boarding an afternoon or evening Eurostar back to London St. Pancras.