Thirty eight years ago, over Christmas/New Year 1983/84, we – as World Steam Tours, because we were then working with David Thornhill's "World Steam" magazine – ran our "Christmas Special" to India, realising that many enthusiasts for various reasons, had little to keep them back home during the "festive" season, and welcomed the chance to see live steam in action in another exotic part of the world.
That tour was a great success – if a little arduous – but sadly ordinary working steam ended in India by the mid-1990's and so such a tour has never since proved viable – until now.
The mountain railways – like the Darjeeling Himalaya, and the Nilgiri railway at "Ooty", and Kalka – Simla, have of course continued – with the odd outage caused by landslides etc. – and are included in our tour – but more recently a number of individual steam railway preservation projects have sprung up, in various parts of India, and which, collectively, can be put together to form an attractive itinerary which can be accomplished – without undue rushing around – in a little more than two weeks. We will be taking full advantage of whatever is operating anyway on the days we will be there; but spending some money on charters to augment such operations. (It will also be a little more relaxing than that 1983 tour, given that some of us are a little older now! – Vic Allen, pictured below).
Highlights of the tour will include "WP" Pacific 7200 (pictured lower on this page) operating on a 14km line just a short distance from Delhi;     2′ 6″ gauge "ZB" 2-6-2 (pictured below) at Palampur, on the Kangla Valley Railway; and probably the most exciting of all, the former Bengal Nagpur Railway's "N" Class Garratt of 1929, recently restored (above) and ready for action! Not forgetting what are claimed to be the oldest working Broad Gauge steam locomotives in the world – East India Railway Nos. 21 and 22 (above, left) "Fairy Queen!".
And whilst we are aware that travel by steam-hauled trains, and photography thereof (hence as many photo "run-pasts" as we can achieve) are a priority for many, we will also ensure depot visits, and where operationally possible, footplating, are also catered for. In addition to Enthusiast Holidays Tour Director, the trip will be accompanied by an Indian railway enthusiast guide.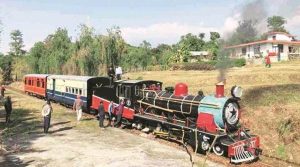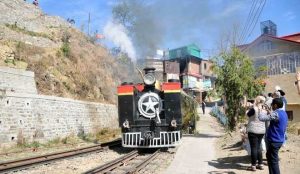 Our local agent – as in 1983 – will be the State-run Travel Corporation of India, and recognising that our clientele in 2021 may be a little older than in 1983, we will be using a somewhat higher category of hotel (always on dinner, bed and breakfast basis) than 38 years ago, even though we will be contracting them at very competitive rates.
Click here for the provisional itinerary. Although we do not have a confirmed tour price yet, you are invited to contact us to register your interest, and a tour price will be posted on this site as soon as we have it. At a very rough guess it will be around £3,750 based on two people sharing twin rooms, and of course including the return flights from/to the UK, probably by Air India, and we will also handle the necessary visa requirements. Originally this tour was planned for Christmas/New Year 2019/2020 but our Agents in India found that nothing (other than the normal Hill Railways – Darjeeling, Ooty etc.) was  ready, and then came the worldwide Coronavirus Pandemic, so reluctantly we have re-scheduled for Christmas/New year 2021/2022, by which time we are confident everything will be in place – and we will be visiting the locations from time to time prior to our trip to ensure it is!