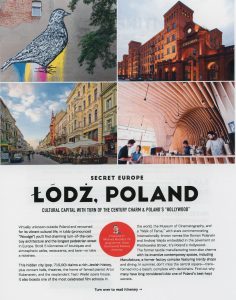 Cultural capital with turn of the century charm and Poland's "Hollywood"
5-day trip to Lodz by Eurostar and train from London, returning by Hook of Holland – Harwich ferry, from £559; 7-day trip including stopover in Berlin, from £649
Virtually unknown outside Poland but renowned for its vibrant cultural life, in the University city of Lodz (pronounced "Woodge") you'll find charming turn of the century architecture and the longest pedestrian street in Europe. Stroll 5 kilometres of boutiques and atmospheric bars, cafes and restaurants – or take a rickshaw.
Poland's third city after Warsaw and Krakow, with a population of 715,000, claims a rich Jewish history, plus concert halls, theatres, the home of the famed pianist Artur Rubenstein, and the resplendent Teatr Wielki opera house. It also boasts one of the most celebrated film schools in the world, the Museum of Cinematography and a "Walk of Fame" with brass stars commemorating internationally-known names like Roman Polanski and Andrzej Wajda, embedded in the pavement on Piotrkowska Street – right outside your hotel, the "Grand". It's Poland's Hollywood.
The former textile manufacturing town also charms with its inventive contemporary spaces, including Manafaktura, a former factory complex featuring trendy shops and dining. In the summer, don't miss the central square here – transformed into a beach, complete with deckchairs! Find out why many have considered Lodz one of Poland's best kept secrets!