Where to find TrainsEurope?
Trainseurope is at Desk No. 1, East Midlands Trains travel centre, St. Pancras station, LONDON NW1 2PQ and its hours of opening are: Daily: 10:00 – 17:00. You are also welcome to visit us in person at our main ticket and reservation office just outside the railway station at March, in Cambridgeshire – open Monday – Friday, 09:00 – 17:00; and at our desk at the East Midlands Trains travel centre on Leicester station, now re-opened after ticket office refurbishment.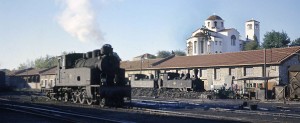 The popularity of international train travel has increased over the years, and now more than ever, more and more people are looking to avoid lengthy check-ins and the much-publicised airport security delays when travelling. Whether you are looking for a short hop to Paris or Brussels, a leisurely rail trip around several European countries; just a train ticket from the airport to the city centre, or the thrill of travelling across the USA or through the Canadian Rockies by rail (and for more details of rail services in the USA and Canada, and how to book train tickets, seat and sleeper reservations and rail passes, contact our March office) – Trainseurope provides all of these services.
Visit their Website